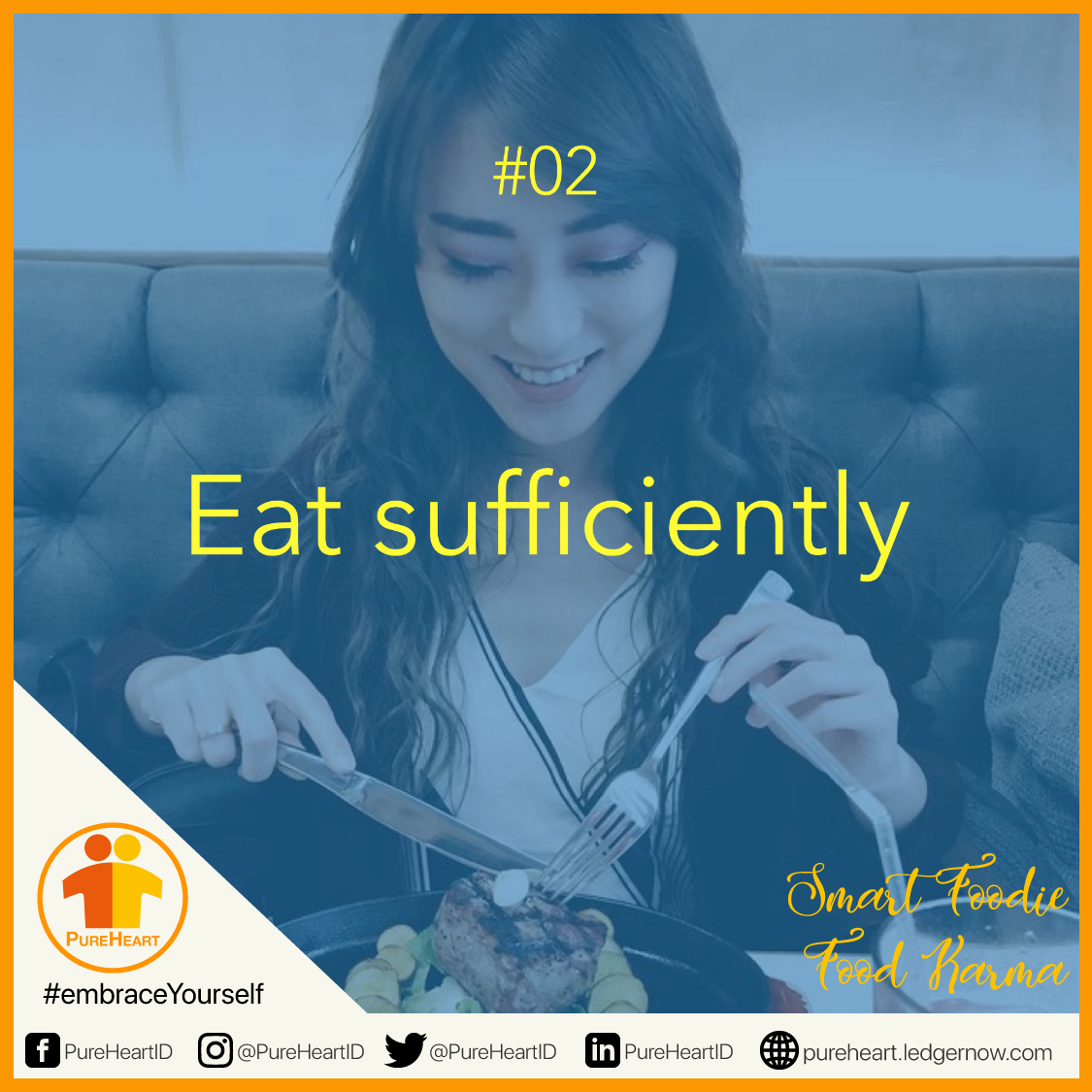 Makanlah Secukupnya
Islam sendiri sebetulnya membolehkan kita makan apa saja, yang dibenarkan secara agama. Meski begitu, dalam soal makan ini Alquran menggarisbawahi: 'jangan berlebih-lebihan' dan semua makanan harus tayyiban bagi tubuh kita. Para ahli tafsir mengartikan tayyiban sebagai yang memberi manfaat bagi tubuh, bergizi.
"Makan secukupnya dan habiskan, dan ingat banyak orang tidak bisa makan" merupakan niat ke-dua dari Paus Fransiskus dalam menyambut Natal 2015 dan Tahun Baru 2016. Niat Paus ini dapat juga diartikan sebagai salah satu wujud nyata dari wajah Kerahiman Allah. Allah telah memberkati kita dengan memenuhi bumi ini dengan makanan yang enak, bergizi, dan nikmat. Kita harus menghormati ciptaan Allah dengan menikmati makanan-makanan ini dan memakannya dalam jumlah yang pantas. Dengan memakan makan secukupnya, kita memberi peluang kepada sesama untuk mendapatkan makanan.
Mereka yang kaya juga boleh makan 'apa' saja (bukan 'siapa' saja). Namun yang perlu diingat, sekaya apa pun kita, toh kemampuan perut tetap sama dengan mereka yang miskin. Lambung orang yang gemuk sekali pun cuma mampu menampung 18-3 piring nasi, atau 3-4 buah hamburger plus satu gelas minuman soda.
Jadi jangan sampai porsi makanan yang Anda konsumsi bisa mengalahkan jatahnya rongga udara maupun air. Hal ini akan menjadikan badan Anda terasa ringan dan nyaman. Jika makan kenyang kita ukur 100 persen, maka maksimal kita hanya makan sebanyak 80 persen saja.
Akan tetapi, janganlah berlebihan dan secukupnya saja. Makan dengan secukupnya tidak akan membuat Anda menjadi gemuk maupun kurus. Jika aktivitas Anda sedikit, maka makanlah secara sedikit. Jika aktivitas Anda banyak, maka makannya juga harus banyak.
Tantangan kedua hari ini adalah, makanlah hanya 80% dari kapasitas tubuh kita. Makan secukupnya adalah cara yang paling efektif dan terbilang cukup ampuh, untuk menjauhkan diri dari berbagai macam penyakit. Siapapun dan berapapun usia Anda, boleh-boleh saja menyantap makanan apa saja dan di mana pun tempatnya.
Eat Sufficiently
Islam itself actually allows us to eat anything, which is justified religiously. Even so, in the matter of eating, the Qur'an underlines: 'do not overdo it' and all food must be sacrificed for our bodies. Interpreters interpret Tayyiban as beneficial to the body, nutritious.
"Eating enough and spending, and remembering many people cannot eat" is the second intention of Pope Francis in welcoming Christmas 2015 and New Year 2016. This Pope's intention can also be interpreted as one of the tangible manifestations of God's Mercy face. God has blessed us by filling this earth with delicious, nutritious and delicious food. We must respect God's creation by enjoying these foods and eating them in the proper amount. By eating enough food, we provide opportunities for others to get food.
The rich are also allowed to eat 'anything' only (not 'who'). But to remember, no matter how rich we are, yet the ability of the stomach remains the same as those who are poor. Even a fat person's stomach can only accommodate 18-3 rice dishes, or 3-4 hamburgers plus a glass of soda.
So do not let the portion of food you consume can defeat the ration of air and water cavities. This will make your body feel light and comfortable. If we eat full we measure 100 percent, so we only eat a maximum of 80 percent.
However, don't be excessive and just enough. Eating enough can not make you fat or thin. If you do a little activity, then eat a little. If you have a lot of activity, then you have to eat too much.
Today's second challenge is to eat only 80% of our body's capacity. Adequate eating is the most effective and fairly effective way to keep away from various diseases. Anyone and whatever your age, it's okay to eat any food and anywhere.
More information:
Smart Foodie, Food Karma: https://pureheart.ledgernow.com/smart-foodie-food-karma/
Sumber:
http://www.katolisitas.org/makan-secukupnya/
https://www.viva.co.id/blog/kesehatan/670590-yuk-ketahui-cara-makan-secukupnya
https://www.republika.co.id/berita/dunia-islam/hikmah/19/05/17/prnedl458-makanlah-secukupnya-jangan-berlebihan