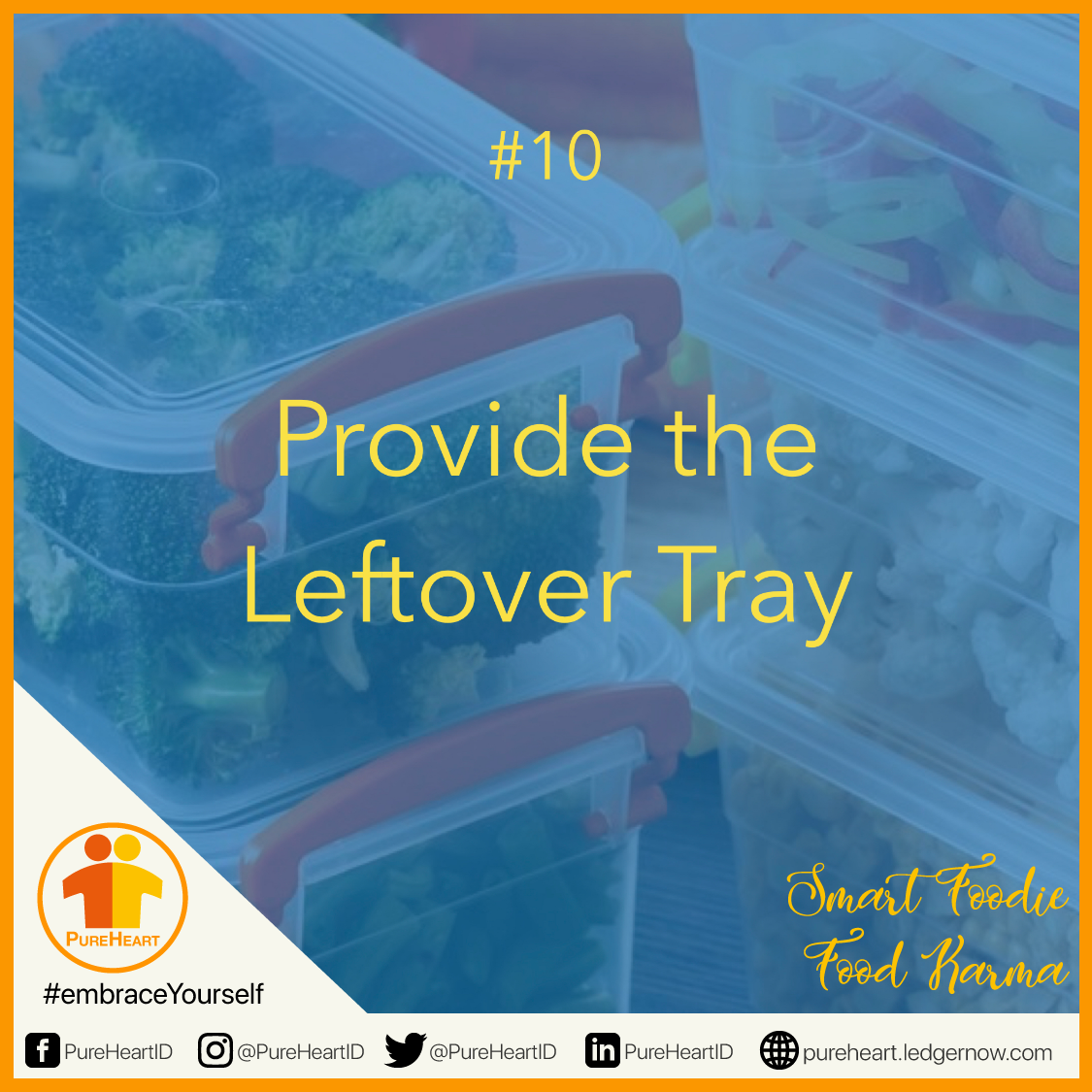 Sediakan Tempat Untuk Sisa Makanan Layak Makan
Cerita nasi kotak belum selesai. Tidak ada satu jamuan makan yang menjamin makanan yang disajikan dalam nasi kotak akan dihabiskan tamunya. Ada makanan-makanan tertentu yang tidak disukai dan umumnyan akan ditinggalkan begitu saja. Padahal makanan tersebut masih layak makan dan dapat diberikan kepada orang lain yang membutuhkan.
Penjamu seharusnya menyediakan kotak makanan untuk menampung makanan yang tidak dimakan namun layak makan untuk dipisahkan terlebih dahulu oleh tamu tersebut. Hal ini selain menjamin kebersihan dan higienis dari makanan tersebut, makanan tersebut dapat disalurkan kepada pihak-pihak yang membutuhkan.
Jika di tantangan sebelumnya penjamu diajak untuk menyediakan tiga tong sampah, maka ditantangan kali ini adalah menyediakan kotak sisa makanan. Tamu diajak untuk melihat dulu makanan yang disajikan, dan jika ada yang tidak berkenan bisa dipisahkan dalam kotak tersebut, bukan di buang bersama-sama dengan sampah lainnya. Membuang makanan layak makan bukan budaya Indonesia.
Provide the Leftover Tray
The Lunch box story has not finished yet. There is no one meal service that guarantees that the food served in the lunch box will be all eaten by the guests. There are certain foods that are not liked and generally will be wasted. We are aware, that these foods are still worth eating and can be given to other people in need.
The host should provide the leftover trays to accommodate food that is not eaten but is worth eating to be separated by the guest first. In addition to ensuring the cleanliness and hygiene of these foods, these foods can be distributed to those in need.
If in the previous challenge the host was challenged to provide three trash cans, then the challenge this time is to provide leftover food trays. Guests are invited to preview the food served, and if there are any that are not liked, they can be separated in the box, not tossed together with other wastage. Throwing out food that is worth eating is not Indonesian culture.
More information:
Smart Foodie, Food Karma: https://pureheart.ledgernow.com/smart-foodie-food-karma/
Sustainable Giving: https://pureheart.ledgernow.com/sustainable-giving/